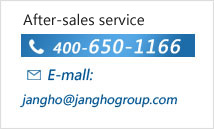 Services Create Value and Reputation Makes a Brand
Regular Follow-up Visits Mechanism for after-Sales
Jangho provides long-term regular follow-up visits to customers after sales and conducts a comprehensive inspection of completed projects on a regular basis. For photoelectric curtain wall, routine inspection is conducted at least twice a year. The return visit rate after sales has been in the forefront of the industry, which ensures after-sales service quality and adds value to our customers all the time.
Jangho designates a professional service team for every owner and provides full-range service from project consulting service in the early phase, design and project management service in the construction phase, cleaning and after-sales follow-up service in the final stage. Fine management is extended throughout the project including visual mock-up and curtain wall proposal demonstration. Jangho is the first curtain wall company in China that publishes after-sales service manuals for curtain wall products, and the first one to store spare construction parts for the follow-up service, which have fully guarantee the quality of every detail.
Jangho has earned customers' enduring trust and recognition for its exceptional service. A consecutive series of bids for the City of Dreams in Macau went to Jangho, along with Gateway Sky I and Gateway Sky II in Abu Dhabi. In addition, the Financial Street project has been highly remarked by the owner for the past ten consecutive years.
Quality and safety is the foundation of Jangho's survival, Quality assurance is our commitment to our customers. When the CCTV new site annex building project was struck by a fire in February 9th, 2009, CCTV new Site Main building, Service building projects which was carefully constructed by Jangho was safe and sound, its excellent quality has fully satisfied the customers.